Xak Bjerken
Professor of Music, Piano
Pianist Xak Bjerken has appeared with the Scottish Chamber Orchestra, Spoleto Festival Orchestra, Thailand Philharmonic Orchestra, the Schoenberg Ensemble, and the Los Angeles Philharmonic in Disney Hall. He has performed at the Concertgebouw in Amsterdam, Glinka Hall in St Petersburg, the Konzerthaus in Berlin, and for many years performed throughout the US as a member of the Los Angeles Piano Quartet. He has held chamber music residencies at the Tanglewood Music Center, Spoleto Festival and Olympic Music Festival, served on the faculty of Kneisel Hall, the Eastern Music Festival, and at the Chamber Music Conference at Bennington College and is the director of Ensemble X, a new music ensemble. Bjerken has worked closely with composers Győrgy Kurtag, Sofia Gubaidulina, Steven Stucky, and George Benjamin, and is currently premiering of piano concertos by Stephen Hartke, Elizabeth Ogonek, and Jesse Jones, recording them with the Oberlin Sinfonietta for Naxos. He released his first solo recording on CRI, and has since recorded for Bridge Records, Koch International, Chandos, Albany Records, and recently released his third recording for Open G Records, presenting solo and chamber works by Steven Stucky. Xak Bjerken is Professor of Music at Cornell University where he co-directs Mayfest, an international chamber music festival with his wife, pianist Miri Yampolsky. He studied with Aube Tzerko at the UCLA and received his Master's and Doctoral degrees from the Peabody Conservatory as a student of and teaching assistant to Leon Fleisher.
Miri Yampolsky
Senior Lecturer, Piano; Artist-in-Residence
Pianist Miri Yampolsky made her orchestral debut as a soloist with the Israel Philharmonic Orchestra and maestro Zubin Mehta at the age of 16, playing Prokofiev Piano Concerto No.1. Since then, she appeared with the Jerusalem Symphony Orchestra, the Israel Chamber Orchestra, as well as the Mainz Symphony, Orquesta Sinfonica de Valencia, Chicago Chamber Orchestra, National Orchestra of Johannesburg, Cayuga Chamber Orchestra, the Peninsula Music Festival orchestra and Cornell Symphony and Chamber Orchestra. A first prize winner of the Valencia International Piano Competition Prize Iturbi in Valencia, and the ARD International Music Competition in Munich, Ms. Yampolsky is an avid and active chamber musician, with appearances in festivals such as Tanglewood; Ravinia; Davos; Berlin Festwoche; Tucson Winter International Chamber Music Festival; Olympic Music Festival; Icicle Creek Chamber Music Festival; Peninsula Music Festival; Hitzacker "Music Days"; Schwetzingen Festival; Sessa "Musica d'Insieme" ; Citta di Castelo; Klassikfest Kaisrstuhl; Lucena International Piano Festival and Salzburg's "Mozarteum".
Yampolsky's teachers include Hannah Shalgi, Michael Boguslavsky and Chaim Taub in Israel; Prof. Dmitri Bashkirov and Marta Gulyas at the Escuela Superior De Musica "Reina Sofia" in Madrid, and Leon Fleisher at the Peabody Institute in Baltimore. Yampolsky was a recipient of AICF scholarships between 1985-1996, and is on the faculty at Cornell University and is a co-artistic director of Mayfest. She lives with her husband, Xak Bjerken, and three children, Misha and Anna, and Maya.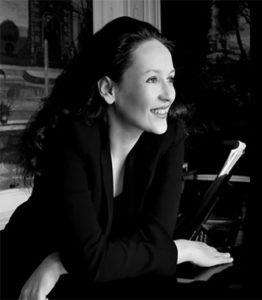 Andrew Zhou
Visiting Lecturer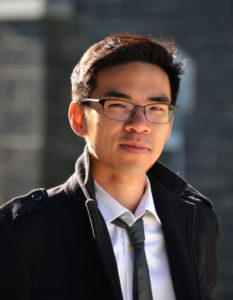 Pianist Andrew Zhou has been noted for his "great sensitivity" and "luminous technique" (Anaclase), performances of "extraordinary energy" (ResMusica), and (more jocularly) has been called a "new-music prodigy" by pianists of Ensemble InterContemporain. Second-prize laureate of the Concours International de Piano d'Orléans, where he garnered four special awards, Mr. Zhou has toured throughout France and has appeared in major venues such as the KKL (Lucerne Festival), Metropolitan Museum of Art (New York), Tongyeong Concert Hall, and the Théâtre des Bouffes du Nord (Paris). As half of HereNowHear, a piano(+electronics) duo with Ryan McCullough, he has created commissioning projects centered on Stockhausen's MANTRA, receiving works from Christopher Stark, Loren Loiacono, and John Liberatore, with support from the Fromm Foundation. He has been the pianist of the Aspen Contemporary Ensemble and ULYSSES Ensemble.
Mr. Zhou received degrees from Stanford University and New England Conservatory, both with distinction, and Cornell University, where he was awarded a Donald J. Grout Memorial Prize for exceptional doctoral dissertations. He studied primarily with Thomas Schultz, Bruce Brubaker, and Xak Bjerken, alongside influential work with Pierre-Laurent Aimard and Tamara Stefanovich. His recordings include a solo disc ("Vienne et après"), as well as contributions on the Aeon, Open Space, and New Focus labels. An upcoming duo disc featuring two-pianist works by, among others, Stravinsky and Satie, will be released as the final disc on the historic CP2 label.
With over two decades of teaching experience (continuous ever since he began giving lessons to his [trusting] neighbors at the age of eleven), he has been honored with several university-wide awards. His pedagogical philosophy focuses on forming the complete, self-aware 21st-century musician in mind, body, and temperament, incorporating years of meticulous study with the innovative methods of alignment and movement as taught by Dorothy Taubman and Teresa Dybvig. For more information and links to his writings on music, visit andrew-zhou.com .
Blaise Bryski
Visiting Lecturer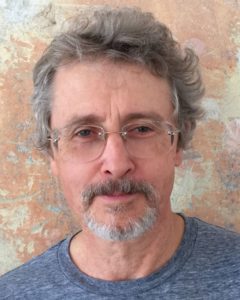 Blaise Bryski currently holds positions as opera coach in the Ithaca College School of Music and as visiting lecturer in piano at Cornell University. He is a twelve-year member of David Borden's Mother Mallard, the world's oldest synthesizer band, which performed most recently at the Berlin Atonal Festival. Last year, he gave the world premiere of 'Breath & Hammers', a concerto for piano and wind ensemble by Mark Winges. Mr. Bryski is an accomplished fortepianist and holds a doctorate in eighteenth-century performance practice from Cornell University. His teachers include Aube Tzerko and Malcolm Billson. He received his Master of Fine Arts degree from the California Institute of the Arts and is a graduate of the University of Cincinnati College-Conservatory of Music.
Bryski's credits as coach/accompanist include Cornell University, the Los Angeles Master Chorale, USC, and the Cincinnati College-Conservatory of Music. He was staff accompanist for the UCLA Department of Music for ten years and was a professional pianist in Los Angeles in many styles including rock and jazz. He has performed with the New York Concert Singers, the Aldeburgh Connection/CBC Radio, Ensemble X, the Green Umbrella New Music series, Society for New Music, the Nakamichi Baroque Festival, the Los Angeles Baroque Orchestra, and the Cincinnati Symphony.
Malcolm Bilson
Frederick J. Whiton Professor Emeritus of Music
Malcolm Bilson has been in the forefront of the period-instrument movement for over thirty years. A member of the Cornell Music Department since 1968, he began his pioneering activity in the early 1970s as a performer of Haydn, Mozart, Beethoven and Schubert on late 18th- and early 19th-century pianos. Since then he has proven to be a key contributor to the restoration of the fortepiano to the concert stage and to fresh recordings of the "mainstream" repertory. In addition to an extensive career as a soloist and chamber player, Bilson has toured with the English Baroque Soloists with John Eliot Gardiner, the Academy of Ancient Music with Christopher Hogwood, the Philharmonia Baroque under Nicholas McGegan, Tafelmusik of Toronto, Concerto Köln and other early and modern instrument orchestras around the world. He was awarded an honorary doctorate by Bard College and is a Fellow of the American Academy of Arts and Sciences.
Mr. Bilson has recorded the three most important complete cycles of works for piano by Mozart: the piano concertos with John Eliot Gardiner and the English Baroque Soloists, the piano-violin Sonatas with Sergiu Luca, and the solo piano sonatas. His traversal on period pianos of the Schubert piano sonatas (including the so-called incomplete sonatas) was completed in 2003, and in 2005 a single CD of Haydn sonatas appeared on the Claves label. In the fall of 1994 Bilson and six of his former artist-pupils from Cornell's D.M.A. program in historical performance practice presented the 32 piano sonatas of Beethoven in New York City, the first time ever that these works had been given as a cycle on period instruments. The New York Times said that "what emerged in these performances was an unusually clear sense of how revolutionary these works must have sounded in their time." The recording of this series garnered over fifty very positive reviews and has recently been reissued.
In addition to his activities in Cornell's performance-practice program, Professor Bilson teaches piano to both graduate and undergraduate students. He is also adjunct professor at the Eastman School of Music. He gives annual summer fortepiano workshops at various locations in the United States and Europe, as well as master classes and lectures (generally in conjunction with solo performances) around the world. In his educational video entitled "Knowing the Score," released in 2005, Bilson discusses the question: Do we really know how to read the notation of the so-called 'classical' masters? For more information, visit malcolmbilson.com.
Mike Cheng-Yu Lee
Visiting Scholar-Artist-in-residence, Cornell Center for Historical Keyboards
Awarded Second Prize and Audience Prize at the 2011 Westfield International Fortepiano Competition by a jury that included Robert Levin and the late Christopher Hogwood, fortepianist Mike Cheng-Yu Lee's performances have since garnered attention for the fresh perspectives they bring to familiar repertoire. For his debut recital in Australia he received a rare five-star review in Limelight Magazine: "Try as one might, it was hard to avoid cliché responses like 'stunning', even 'electrifying'. I don't think I have heard a Mozart recital quite like this. I heard things in Mozart's music I had never thought possible and certainly had never encountered before."
Mike is an advocate of pianos that span the 18th- to the early 20th-centuries. Adept at working with both period and modern performers, he has appeared as fortepianist with the New World Symphony at the invitation of Michael Tilson Thomas and has collaborated with musicians from the Juilliard, Formosa, and Aizuri quartets, among others. As a devoted teacher, he has recently performed and given masterclasses at the Royal Academy of Music, Oberlin Conservatory, University of Southern California, Northwestern University, the University of Michigan–Ann Arbor, and the Western Australian Academy of Performing Arts.Mike has served as Visiting Assistant Professor at Indiana University–Bloomington, Lecturer at the Australian National University, and Director of the ANU Keyboard Institute. As a published scholar, he has presented on issues of performance practice, musical form, and musical embodiment at the Society for Music Theory, the European Music Analysis Conference, and the Society for Music Analysis.
Mike holds a Ph.D. in musicology from Cornell University where he was awarded the Donald J. Grout Memorial Dissertation Prize. His teachers have included Malcolm Bilson, Boris Berman, and the renowned Haydn scholar James Webster.
For more information, visit mikechengyulee.com.